Words: Nick Rice
---
Record sales have been rising for over a decade and in 2019 they surpassed US$500 million, outperforming CD sales for the first time since 1986. Record player technology however, has not greatly advanced. Cue the +Record Player, an all-in-one concept product fit for audiophiles.
---
---
"It doesn't matter how sophisticated or expensive your audio set up is, if you haven't got the right cables, forget it."
That's the sort of comment you might hear from a high initiate of the audiophile world; from an expert on the manifold combinations of components – speakers, amplifiers, turntables, cartridges, styli… and cables! – that comprise a top-end music system, or Hi-Fi as they are still known.
These kinds of statements are indicative of the forensic detail that audio aficionados expect of any high-quality audio system. Now, it's natural to want to hear music played in the best possible way, but it's way too daunting for most people to acquire the complex knowledge of your average audiophile. And, most people don't need to be in that particular exclusive club either. They don't claim to perceive the subtlest fluctuations in musical tone and timbre.
While most listeners don't have the hearing powers of an underfed bat, many music lovers are discerning and they do want to hear their music tastes reproduced to a wonderfully high standard, they just want it in a simple solution.
---
---
This is the audience that Plus Audio (+Audio) has savvily tapped into with the creation of the 'all-in-one' unit, the +Record Player. Self-contained record players (distinct from turntables, which require careful matching with amplifiers and speakers) normally provoke scorn from audiophiles who have a wide frame of reference for innumerable component combinations, and so can be baffled by having no choice in gear matching. But, even they are impressed by the +Record Player.
When it smashed its Kickstarter campaign target in 2017 and was launched in the USA that November at the New York Audio Show, one well-respected audiophile described the +Record Player as, "shockingly good."
Another arch audiophile and veteran Hi Fi reviewer, the immensely knowledgeable writer Ken Kessler (who's legendary listening room at his London home is a combination of Hi-Fi museum and audio-laboratory) wrote in the Telegraph, "+Audio has produced the first all-in-one unit I can recall in a half-century that employs all the ingredients of a portable record player but executed with high-end audio sound quality and virtues."
---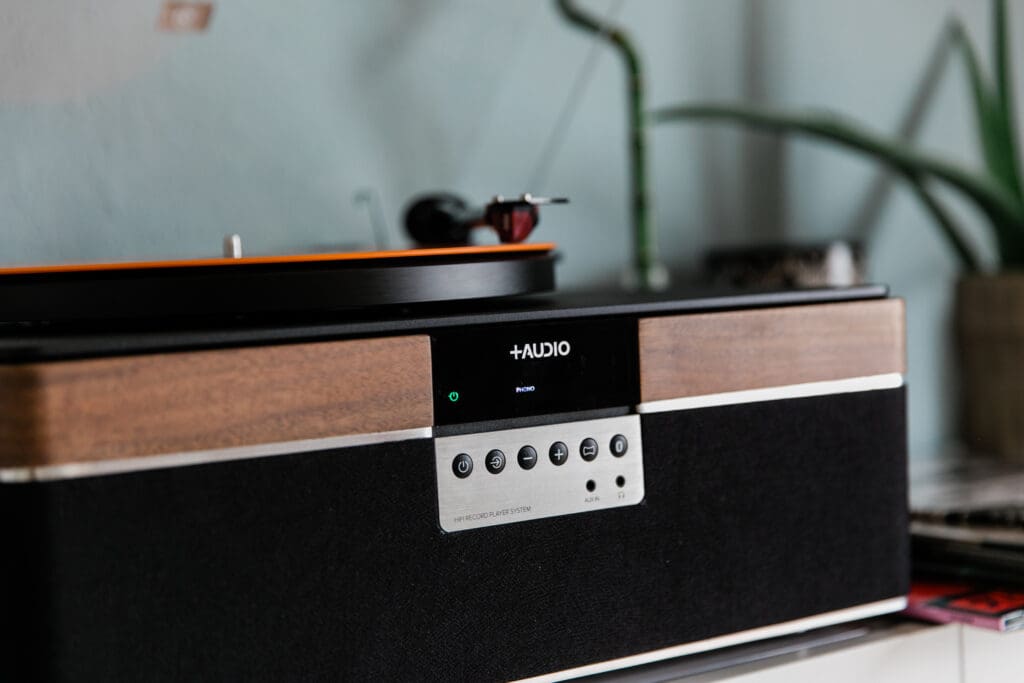 ---
Plus Audio have pulled off a remarkable feat – creating a modern system for new vinyl enthusiasts, that also pleases the old guard of audio connoisseurs. In their own words, the company, "is focused on matching the needs and tastes of contemporary audio enthusiasts by crafting high-end audio products that deliver audiophile quality in small and compact enclosures, paired with timeless design and simple functionality."
The +Record Player is indeed perfect for vinyl lovers old and new, as you can unbox it, follow a simple twenty-minute process of assembling the platter and tone arm, plug just one cord in, and then enjoy the black magic of your treasured LPs. And as well as sounding incredibly good for a relatively compact product, it also looks seductively stylish.
It was designed by Alexander Åhnebrink, originally from Gothenburg, and a graduate of Central Saint Martins College of Art & Design in London. Åhnebrink holds Red Dot and IF design awards and continues to build a stellar career, which includes senior designer positions at Lenovo in Beijing, Mario Bellini's Studio in Milan, Studio Berg in Milan and Stockholm, and his current role as well as Chief Creative at Retail Link in Shanghai.
---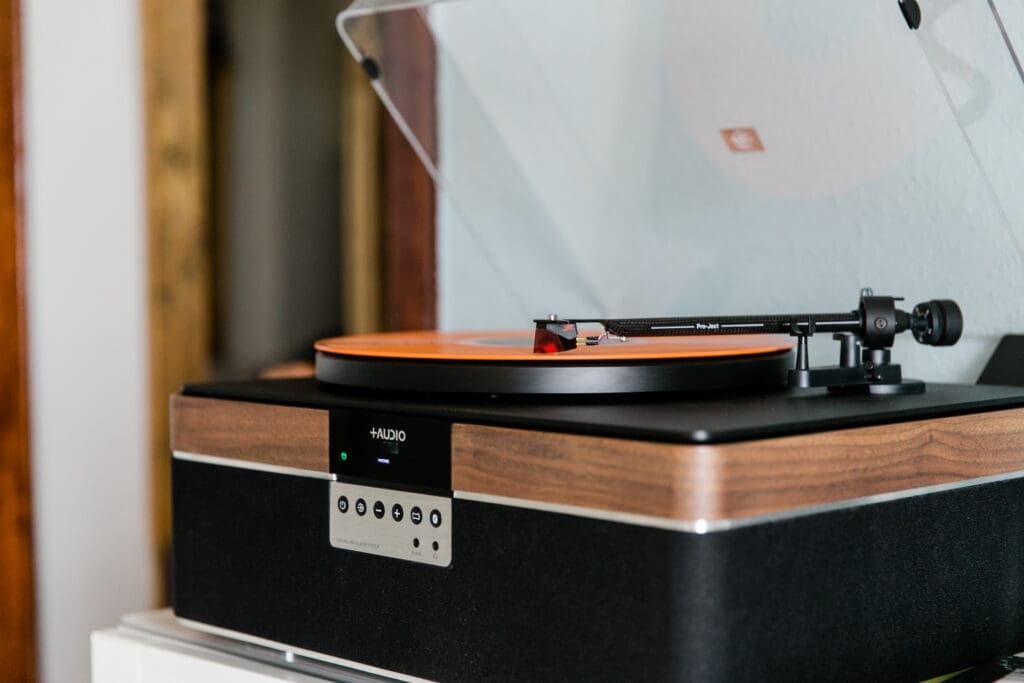 ---
His first collaboration with +Audio was on the hugely popular +Radio, a table top radio offering an extraordinary audio experience. With the +Record Player the challenge expanded. Åhnebrink says, "The brief was to create a compact record player, which contained everything you need but also had terrific sound quality. We wanted to reduce the complexity of the vinyl sound system and its components."
This is the silver bullet the +Record Player represents – high quality sound delivered without the need for a Master's degree in audio equipment. "We as experts, put together all you need to enjoy your vinyl in a complete sound solution without having to buy all separate pieces; turntable, amplifier, speakers etc." Åhnebrink explains, adding, "I believe a lot of people would like to go back to listen to their old vinyl albums but are reluctant to make a huge investment in terms of equipment. And if you're not an enthusiast you probably don't want to invest all that time in understanding what equipment is right for you."
That evaluation hits the nail on the head for me. I'm a hopeless addict when it comes to records. I started buying them before I was a teenager and the bug has never left me. Even during periods when I didn't have a record player, I still bought records. However, I've always been intimidated by the myriad options and endless combinations of high end audio equipment… not to mention the price tags! A simple plug-in and play system that is reasonably priced and doesn't compromise on sound quality is, well, a different kind of music to my ears.
---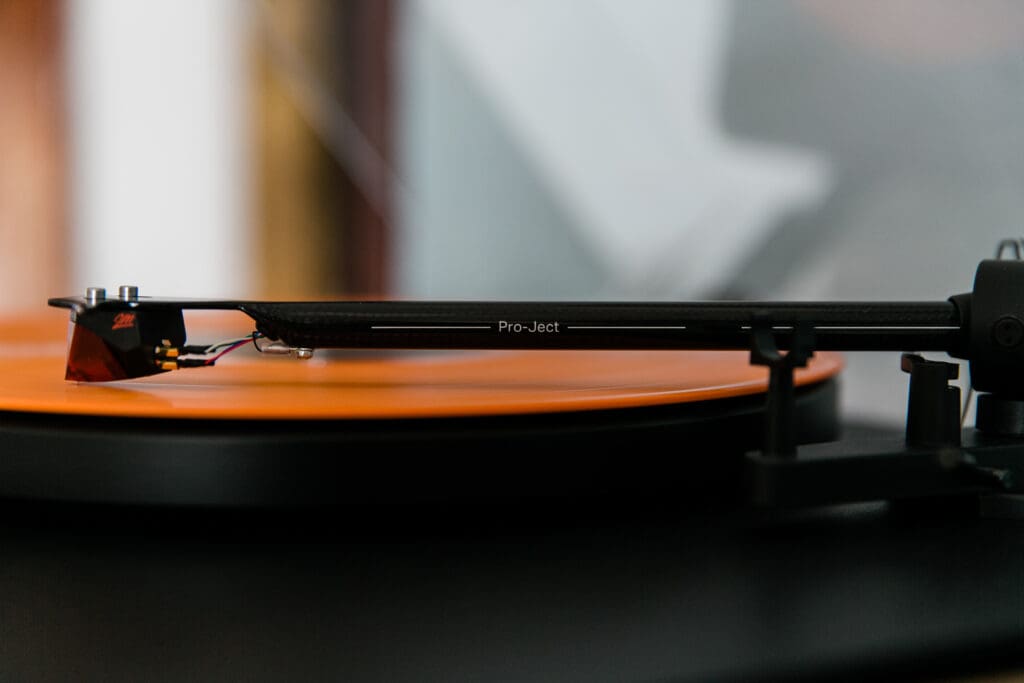 ---
With the +Record Player, you can enjoy old classics and contemporary albums and singles with minimal fuss. Pull out The Beatles seminal 'Sgt. Pepper's Lonely Heart's Club Band' and hear George Harrison's captivating sitar fill the space, or put the 7-inch of 'Penny Lane' on and the crisp piccolo trumpet solo sounds almost as though it were being played in the same room.
For better or worse, I'm more of an analogue person… give me a mechanical watch that tells the time, maybe the date as well, over a smartwatch that can perform 101 more functions, any day. I want tiny cogs, wheels, and perpetual rotors engaged in discreet operational harmony, rather than invisible binary processes telling me how many steps I've made that day and if I've under-slept. However, while the +Record Player is wonderfully analogue and performs best with vinyl, +Audio were wise enough to make it digitally adaptable and in pace with the 21st Century, so you can bypass the dynamic bi-amplified 100W internal speakers and build on the system should you wish to.
Multiple users in the same household could enjoy two different user experiences – one analogue, with the custom turntable by Pro-Ject providing stabilised 33/45 rpm vinyl playback and a Pro-Ject carbon fibre tonearm mounted with an Ortofon 2M Red cartridge. The other entirely digital, with Bluetooth, optical digital input, and a USB input/output to rip to a Mac or PC for listening to Mp3s or other digital music files. It also incorporates an auto signal sensing line input and 5-Volt power supply for the integration of Amazon Echo or Google Cast audio adaptors.
---
---
It's an impressive stroke to satisfy both types of consumer, and executed in a physical form that is more than easy on the eye. Even Åhnebrink emphasises that the sleek looks are secondary to performance though. "The most important thing is the sound quality. The design and aesthetics can contribute to creating initial interest in the product but to be successful the product needs to fulfil and exceed the user's expectancy on sound quality. Nevertheless, over the long term both industrial design and technology contribute to the product success," he states.
In charge of delivering the internal technical wizardry is Bob Hazelwood, a hugely respected figure with over 37-years' experience in the audio industry and currently Chief Coordinator and Engineer at +Audio.
Reflecting on the evolution of the +Record Player, Hazelwood says, "Alexander didn't want to hear about separate speakers and it took me quite some time to find the solution to incorporate the speaker system into the same cabinet with the turntable transport. When I saw Alexander's design, I was blown away with its elegance and beauty, so I decided to re-evaluate all technical issues and physical principles until a brilliant intuition came to my mind and I decided to match my technical expertise resources with +Audio's industrial design to create what I think to be a revolutionary solution for all vinyl lovers."
---
---
To get momentarily technical, I ask for a layman's summary of how the technical feat was accomplished, and Hazelwood explains, "It is not just one secret trick, but a combination of things that collectively add up to a substantial reduction in structural vibration. The trick is attenuating the speaker vibration sufficiently so that it doesn't affect the stylus. The simple explanation is that it is a combination of the geometry of the speaker array, the internal bracing of the enclosure, and some electronic tomfoolery. Each of these things alone wouldn't be enough, but the combination is effective enough to reduce the structural vibration to a point where the elastic mounting of the turntable can absorb what is left."
Turntable technology arguably hasn't advanced much in decades, so the +Record Player is undoubtedly a striking innovation, but did +Audio anticipate criticism or blanket rejection from audiophiles? Hazelwood considers this for a second and says, "We didn't know what to expect. It was either going to be embraced as a great idea, or completely rejected. Everybody knows it can't possibly work after all! The Internet was quick to tell us that we're crazy, and that we were crooks trying to take money from innocent people. Of course, we had it all figured out before we went public, so we laughed it off and ultimately let the product do the talking."
---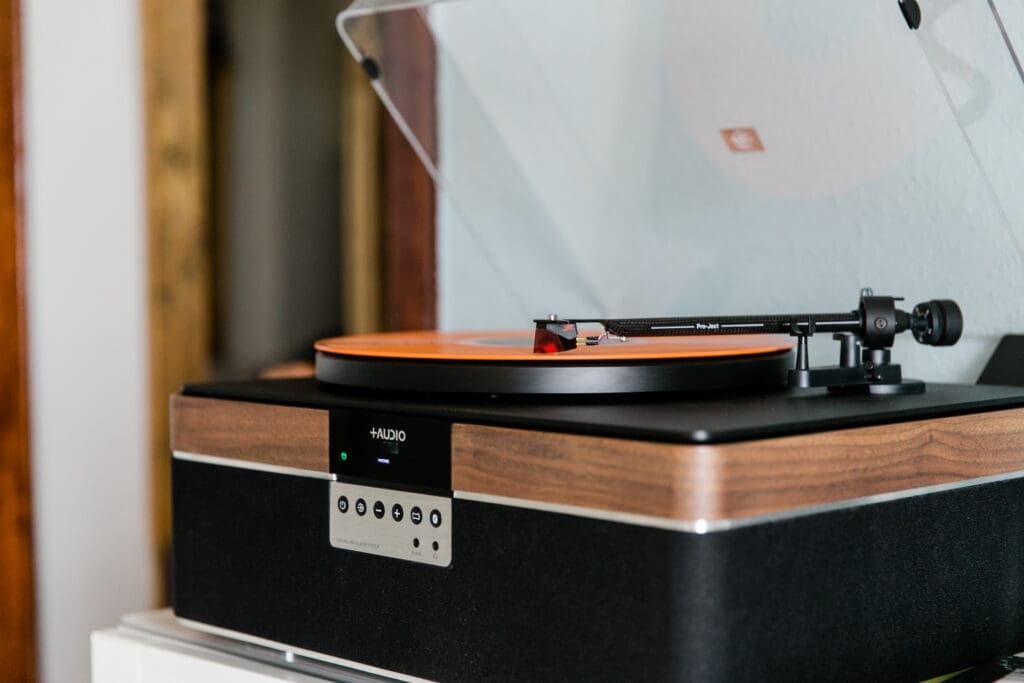 ---
The +Record Player does speak for itself but vinyl sales only account for around 5 per cent of the market for recorded music. Is continued growth for vinyl, and consequently more demand for the +Record Player, a safe bet?
Hazelwood is confident and closes saying, "I think so. Vinyl will always be a niche compared to streaming, for example. But I think people seem to be appreciating the tangible benefits of a physical medium. The dedication it takes just to play a single record somehow transports you closer to the musician. The art, the permanence, the weighty feel, all these things together contribute to the pleasure of the experience in ways you don't get with digital. It's not just about the sound, but about the total experience."
---
Nick Rice is a multi-platform journalist with over 20 years' experience and a roving portfolio. As well as contributing to Eqoime and Out of Time magazine, Nick also works as a publishing consultant, writer and editor for a range of international titles.
---