Eqotime möter: Mark Gold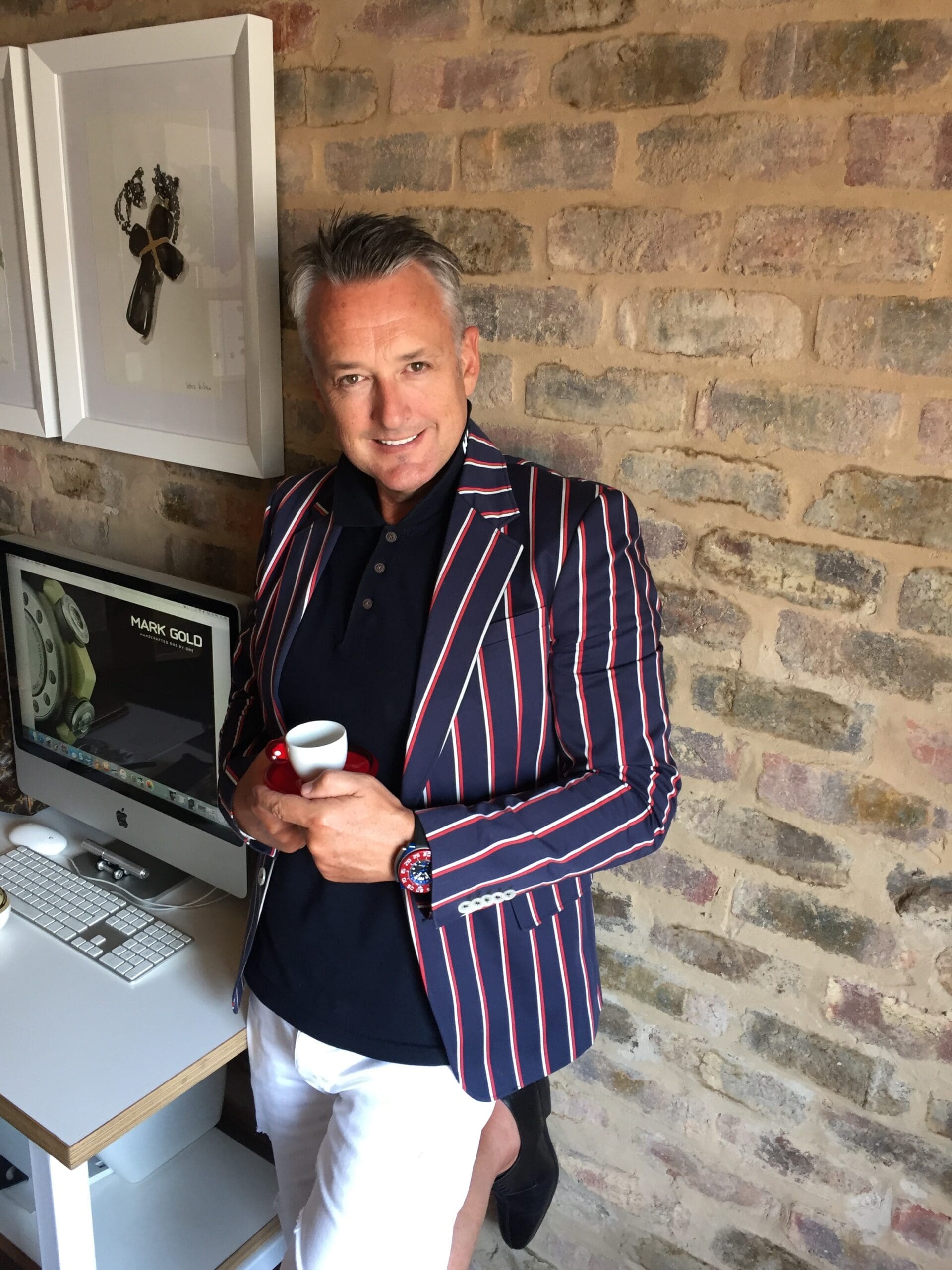 Av: David Svensson
---
I knew I was destined for more than dirty hands and overalls.
---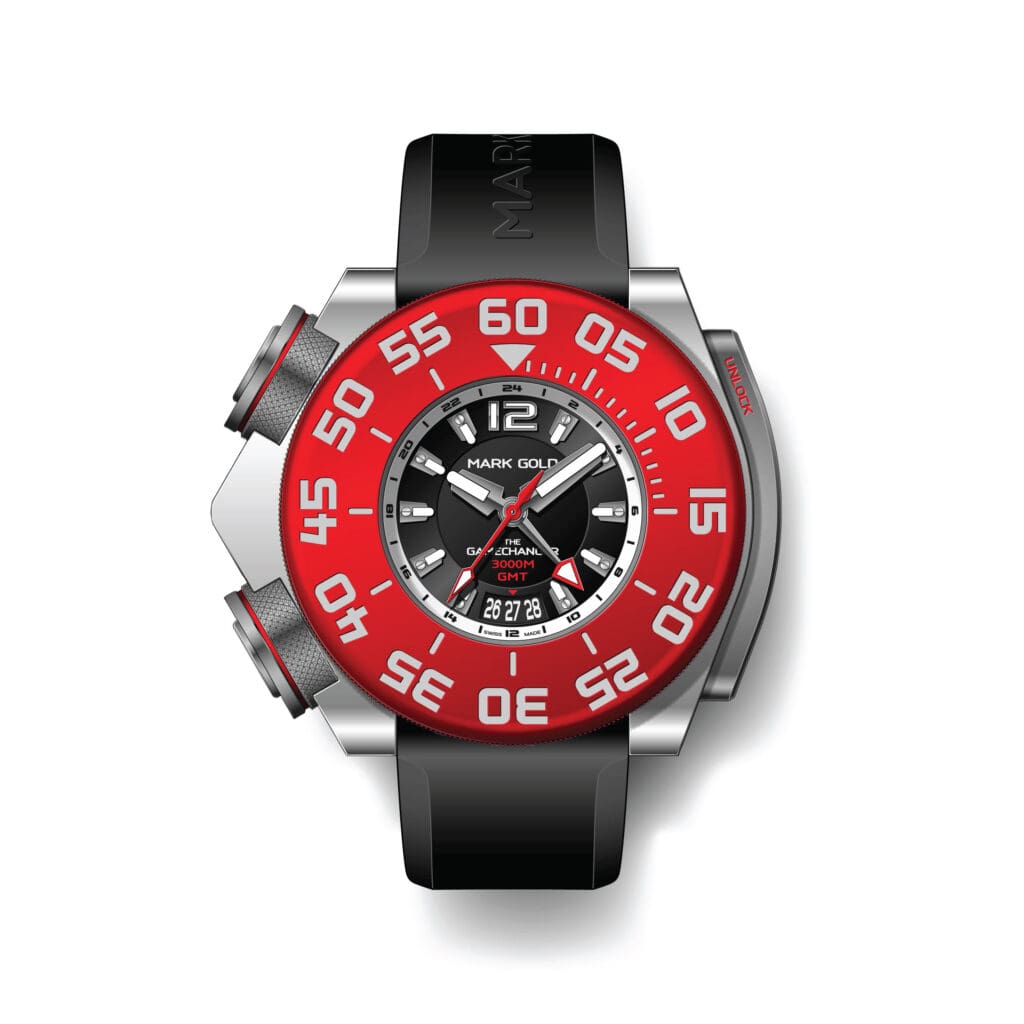 ---
Maybe you've never heard of Mark Gold? We don't blame you. He's not you're well known average corporate celebrity watch guy. It's pretty much the other way around. But if you do have heard of him, you're probably aware of the fact that Mark Gold are one of those true independent watch guys. A guy you most definately want to get know better. Se let us have a chat with him.
---
we do have an incredible new watch under development … Baselworld 2021 … mic drop!
---
Q 1 – WHO IS MARK GOLD
Hey, I'm Mark Gold, A South African of British decent … I'm just a guy with a 32 year history in design and manufacture with a strong passion for a contemporary way of doing things. Coming from a traditional diamond jewellery background and having done hard the basics of mechanical engineering on laithes and milling equipment, I knew I needed to do things differently to get ahead and make my mark. Looking up to the dapper Ralph Lauren as inspiration, I knew I was destined for more then dirty hands and overalls.
I furthered my studies at the Durban University of technology and reached top of my class for jewellery design and manufacture and so the fun began. Making people smile when presenting what I had created for them was the beginning of an amazing journey. I am now a 53 year old salt and pepper gent with 3 lovely children, and situated in the beautiful Garden Route, Western Cape. Having had 4 jewellery stores and making jewels for the likes of Jenson Button, Celine Dion, Nelson Mandela and recently Robert Downey Jnr in collaboration with James Thompson, I chose the county side to take a step back from city living and move forward with creating exciting and fresh brands for the luxury market. Being a forward thinker, I had the need to move away from the traditional style of jewels and expand horizons whereby my original technical schooling abilities have came back into play.
---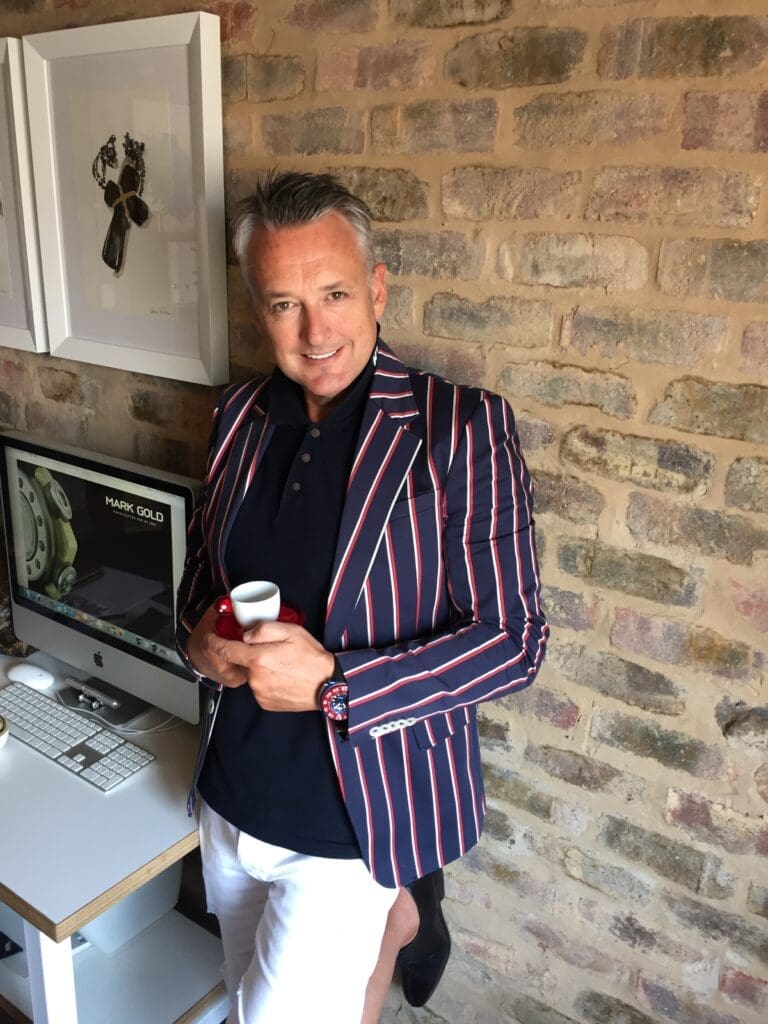 Q 2 – WHAT DO YOU DO AND WHY DO YOU STAND OUT
I am a true believer in creating magic through design. I currently work alongside with my wife from a design laboratory which we founded in 2013, where I conceptualise, design, prototype and develop high-end niche products for the luxury space. My creations appeal to an art appreciating, forward thinking consumer with the desire to have what others don't. Other than my creative work in the lab, I also have a passion for learning and researching the ever evolving social media platforms and keeping myself up to the minute with trends and design.
---
Q 3 – RANK YOUR FIVE FAVORITE CREATIONS
– The Gamechanger, a project driven by pure passion and the determination to create something contemporary and unique, is a watch that I developed in collaboration with a Swiss technical team has defnitely been my favorite project thus far. The amount of time and research involved in the project as well as working mainly via Skype with people on a diferent continent with language barriers made it extremly rewarding. www.markgold.com
– The High Roller … A collection of high precision micro engineered components combined to make a novel and contemporary ring, hand assembled and finished using traditional techniques. The ring has a kinetic movement, giving it an incredible feeling of tactility. This brand led me to an amazing collaboration with James Thompson of Black Badger advanced composites. James and I came together through social media before fnally meeting face to face, one year later, at the Basel world fair 2019. It is interesting to note how you can resonate with your own tribe regardless of where you are in the world, through contemporary communication channels, such as Instagram. I do love Instagram btw. www.thehighroller.club
– The Club Collection, a range of contemporary high-end barware, each handcrafted using aviation grade superalloys with or without carbon fibre. The superalloys are anodised using a food safe process to an incredible array of colours. This collection is developed as an alternative to traditional glassware. It turns out we have discovered so many advantages over traditional glass offerings, besides looking cool, the alloys keep the drinks cold for much longer and obviously not shattering into a million pieces when dropped after one to many … laughing face right now www.theclubcollection.club
– Bespoke Blooms is a collection of foral inspired contemporary jewels, made using hightech polymers combined with diamonds and gemstones and set in 18ct gold. This is particularly close to my heart as the entire process required specialised tooling and moulds which actually are derived from various different industries. The interesting part for me was the journey of discovery, bringing knowledge from so many disciplines together to create a line of jewellery with powerful colours and combinations. Instagram: bespokebloomsofcial
– Hercules Karoo Agave Reposito – an agave based tequila collaboration made using traditional Mexican techniques from aloe plants found in the Karoo desert region about 150km from when I live. This brand is still under development but particularly close to my heart as I love tequila. The diference with this over traditional tequila is that we use a quadruple distilling process and are collaborating with an incredible hand blowing glass specialist as a botteling solution and with anodised superalloy stopper, instead of traditional cork.
---
Q 4 – FAVORITE METAL TO WORK WITH
I come from the traditional jewellery background where we work with 18ct gold and platinum. These days, however, I really prefer working with materials such as bronze and aviation grade superalloys. I don't often use bronze although I enjoy the properties of it. I love that as we all have different oils in our skin and the bronze changes colour differently with each person. I have to work with surgical gloves when using bronze and the first human touch on the material is its new owner.
I have also developed a passion for aviation grade superalloys and although it is sometimes quite difcult to work with, the end results can be incredably rewarding because of the array of colours you can achive through the anodizing process. See www.theclubcollection.club for examples of the amazing colours and combinations achievable.
---
I also feel strongly that I could add some contemporary design fair to the traditional French brand, Hermes,
---
---
Q 5 – YOUR DREAM COLLABORATION
I once went for lunch in Cape Town with famed designer, Marc Newson, who I found intersting and inspirational. It turns out that we both come from the same jewellery background, however, our approach to design is very diferent. I do feel that two brains are better than one and feel there could be a magical outcome doing a collaboration with him. I also feel strongly that I could add some contemporary design fair to the traditional French brand, Hermes, by introducing colourful anodised design elements and components #justsaying
---
Q 6 – WHATS NEXT
The Gamechanger Chronograph of course. I am not saying to much about this one, however, we do have an incredible new watch under development … Baselworld 2021 … mic drop!
---